American Legion Auxiliary Programs
THIS PAGE IS A WORK IN PROGRESS - PLEASE CHECK BACK AGAIN! THANK YOU!!
The Activities of the American Legion Auxiliary
Select a program below to learn more about what the American Legion Auxiliary does for veterans, their families, and their communities.
To open these forms, please make sure you have the latest version of Adobe Reader.
Citation of Merit Requirements
Annual Impact Report Form and Tracking Sheet
Reporting Information and Assistance

District Chairmen Report Form for 5 Major Committees

---
Americanism
Auxiliary Emergency Fund
Buckeye Girls State
Chaplain
Children & Youth
Community Service
Constitution & Bylaws
Education
Finance
History
Junior Activities
Leadership
Legislative
Membership
National Security
Past Presidents Parley
Poppy
Public Relations
Veterans Affairs & Rehabilitation
Call To Service Corps Vista Project
---
Americanism
Key Program Statement:
Be knowledgeable on flag history, etiquette, and proper disposal methods, and promote the observation of patriotic holidays so your community will look to the ALA for information.
Increase participation in the Americanism Essay Contest
Participate in the promotion of The American Legion Americanism programs.
Vice Chairman: Charlotte Frazier
Auxiliary Emergency Fund
Key Program Statement:
The Auxiliary Emergency Fund (AEF) is a national grant assistance program that provides temporary emergency assistance to eligible members of the American Legion Auxiliary up to $2400 as the result of an act of nature or other personal crisis.Chairman: Pam Brennemen

Chairman: Pam Brennemen


Buckeye Girls State
Buckeye Girls State is the name given to Ohio's Girls State program, which is designed to educate Ohio's young women in the duties, privileges, rights, and responsibilities of good citizenship. By getting involved in the process, BGS delegates learn more about city, county, and state government in one week than they will in an entire semester of high school.
Buckeye Girls State hopes to inspire these skills in Ohio's young women:
To develop leadership and pride in American citizens
To educate Delegates about our system of government
To instill in Delegates a greater understanding of American traditions
To stimulate a desire to maintain our government process
BGS Director: Gwen Schroeder-Zulch
To learn more about Buckeye Girls State, visit www.buckeyegirlsstate.org or email
BGS Coordinator Vicky Buck at vicky@alaohio.org.
Chaplain
The Auxiliary serves both "God and Country" through its Chaplains. Unit chaplains honor the sacrifice of our men and women in uniform and commemorate the lives of the auxiliary members who have served them through prayer and meditation. They serve by brightening the spirits of those in our VA medical facilities. Chaplain programs include preparing prayer books for veterans and units, honoring military families, and helping communities grieve over the loss of a loved one. Chaplains remind us that there is a higher power that allows us to serve our veterans, so we must remember to serve Him.
Chaplain: Sharon McClain
Children & Youth
Key Program Statements
The Children & Youth program emphasizes protecting, caring for, and supporting children and youth, particularly those of veterans' and military families.
To recognize and reward the positive actions of our children and youth, the American Legion Auxiliary has two special national awards bestowed to youth nominated by units: the Youth Hero Award and the Good Deed Award.
Kids of Deployed are Heroes 2 (KDH2) is an initiative honoring military children who may be experiencing a separation from one or both parents, whether deployed to a war zone, having a short tour or on an extended temporary duty assignment.
The American Legion Auxiliary Children & Youth program strives to support and promote the Children & Youth Program of The American Legion.

Chairman: Deborah Meyer

Vice Chairman: Patricia Miller

Community Service
Chairman: Rebecca Dippman

Vice Chairman: Roseann Paquette
Constitution & Bylaws
Chairman: Carol T. Robinson

Education
Chairman: Diann Long

Finance
Chairman: Desi Stoy stoy1992@gmail.com
2nd Member: Beth Toalston batoalstonrx@hotmail.com
3rd Member: Patricia Taylor

Fund Raising Ideas and Information
Incorporating Your Unit Information
Tax Information and Bonding Explanation
IRS Information on Non-Profit Tax Exempt Status
IRS Fact Sheet on Reinstatement

General Exemption Determination Letter for Units Departments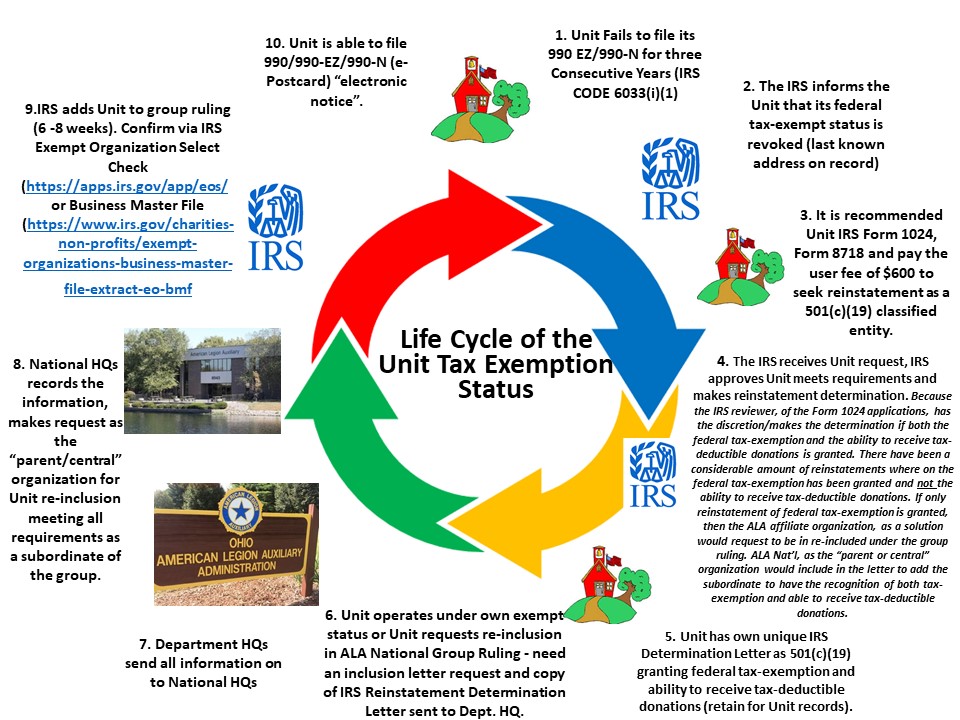 History
Historian: Dayna Beyer mrsdaynabeyer@gmail.com
Junior Activities
Chairman: Michelle Zayakosky post214michellez@gmail.com

2nd Member: Jacqueline Moore

3rd Member: Sabrina Cobb-Stewart

Leadership
Chairman: Pam Bates pamelabates9@gmail.com
District Training
Leadership Training Script (to use with slides) Updated!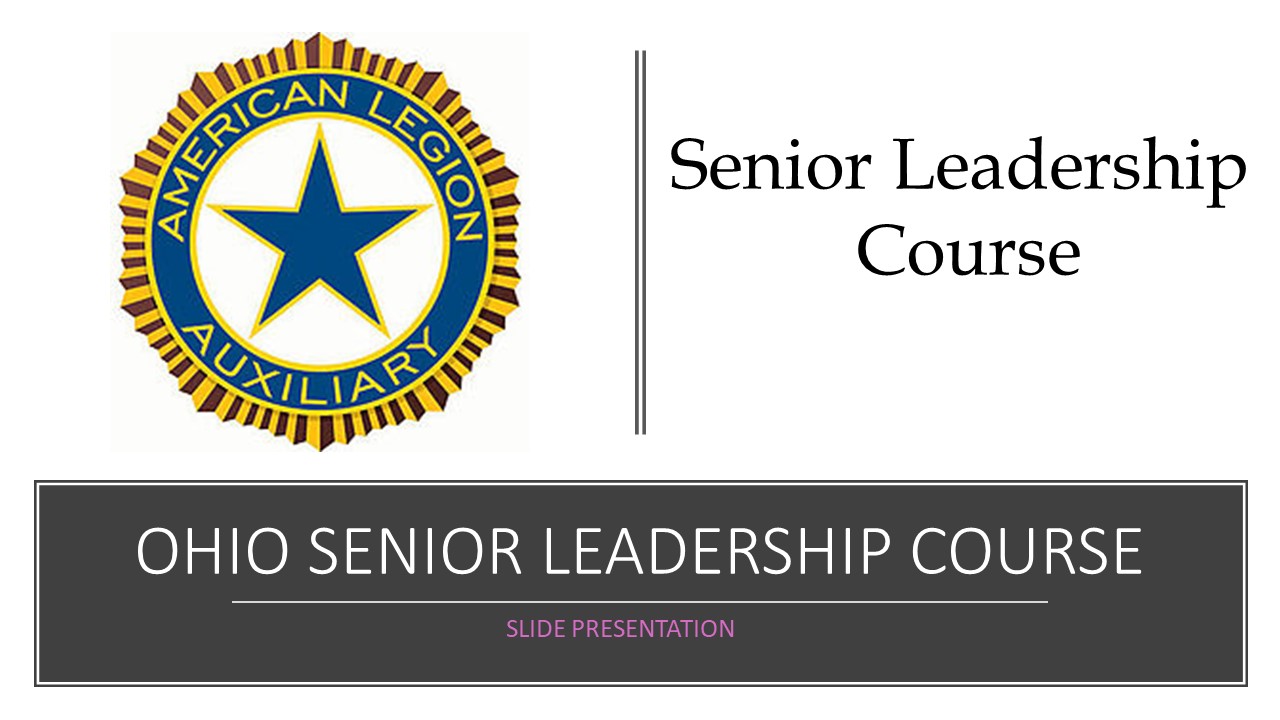 National Leadership Training Courses

Test Your Journey Knowledge- Test
2020 Guide Part 1 - Unit Members

2020 Guide Part 2 - District Members, President, Chairman
2020 Guide Part 3 - Here for You - Department Officers & Chairman
2020 Guide Part 4 - Conducting a Meeting
2020 Guide Part 5 - Protocol & Conduct
2020 Guide Part 6 - Thinking About Being a Leader
2020 Guide Part 7 - Miscellaneous Topics
OHIO JUNIOR LEADERSHIP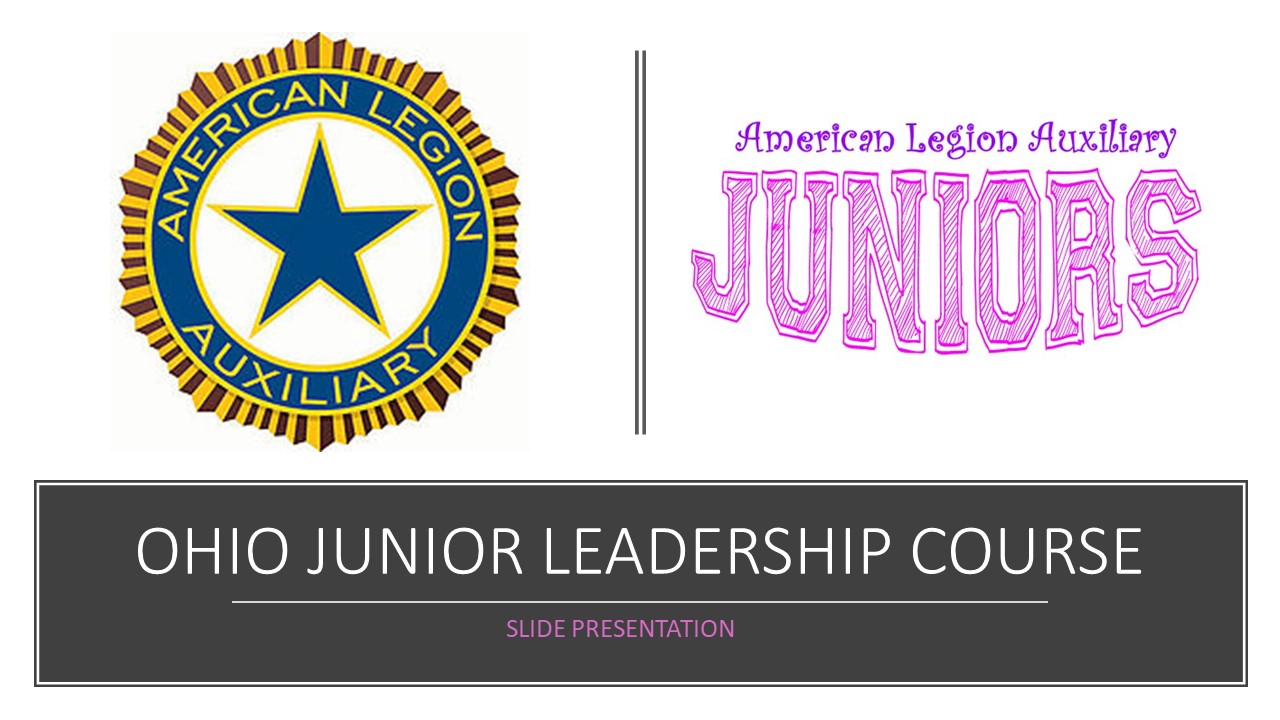 Ohio Junior Leadership Script (Use with Slides)

Ohio Junior Leadership (Non Power Point Version)

Legislative
Legislative Council Application
Membership
Chairman: Cindy Masowick
2020-2021 Department Membership Incentives
National Security
Chairman: Gloria Verbeke
The Military Family Assistance Fund

The Military Family Assistance Fund is a Department of Ohio American Legion Auxiliary Program developed in order to to come to direct aid of our veterans and their families right here in Ohio.
The program offers financial assistance for eligible veterans and their families. There is money available to assist in covering the costs of maintaining basic family needs such as the costs of shelter, food, utilities, and health expenses. Helping to keep a stable home environment. Funding can include, but is not limited to, family living expenses including rent, mortgage payment and utility bills; medical expenses; childcare for working parents; insurance premiums, and assist with necessary home repairs.
It is not necessary to be a member of the American Legion or American Legion Auxiliary to apply. Assistance is in the form of a grant and doesn't not have to be paid back. We only ask that you "pay it forward" and someday do a good deed for another.
Since its inception in 2012, the Ohio Military Family Assistance Fund has assisted 43 families totaling over $50,000.00 in financial assistance. Think you want to help out. Check out the link below to make a donation.

Military Family Assistance Fund Brochure
Military Family Assistance Fund Application

Letter to Request Funds from Businesses and Organizations & Thank You Letter for said Funds

Past Presidents Parley
Chairman: Kathy Heichel
Past Presidents Parley "How To"
Poppy
Chairman: Susan Schofield-Fratino

Poppy Shop Director: Nancy Longbrake

Poppy Shop Assistant: Cindy Crispen

Poppy Resources
Public Relations
Veterans Affairs & Rehabilitation
Chairman: Shirley Maurer
Vice Chairman: Judy Leddy jal85@aol.com
Hospital Director: Linda Close lindaaclose@gmail.com